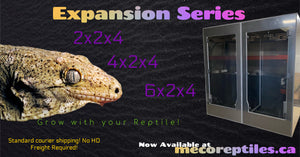 MeCo Reptiles and Enclosures is a home based family run business in Airdrie Alberta. Always looking to bring new Ideas to help reptile keepers provide the best care for their animals.
PVC Racks and Enclosures are shipped flat pack requiring assembly to ensure the lowest shipping rates
We ship North America Wide currently! For US orders please contact us through messenger on this screen, or via Email mecoreptiles@gmail.com. Quotes for shipping to the US do not always calculate properly at checkout.
If you are looking at Multiple Items for Domestic shipping, the quote tool can quote high at times, if you are concerned about your shipping quote, please contact us so we can manually quote shipping!